This vintage beach cottage has enjoyed a complete remodel. It's been modernized on the outside, while maintaining all the vintage charm on the inside, with a pure white decor theme that emphasizes space, beach and ocean views.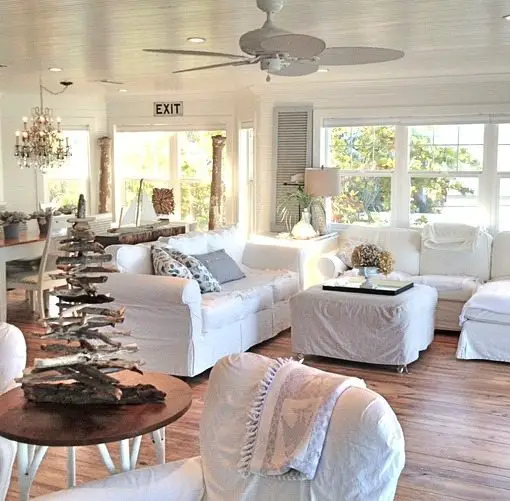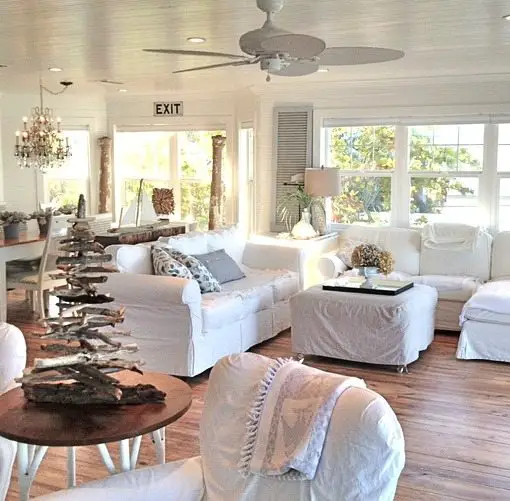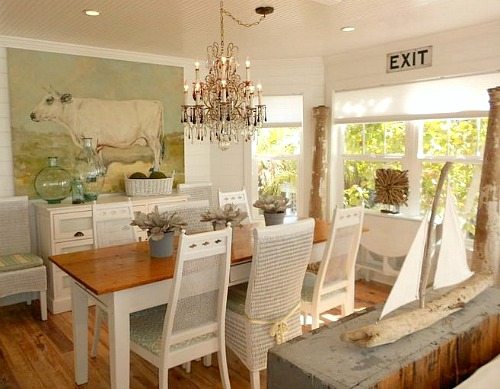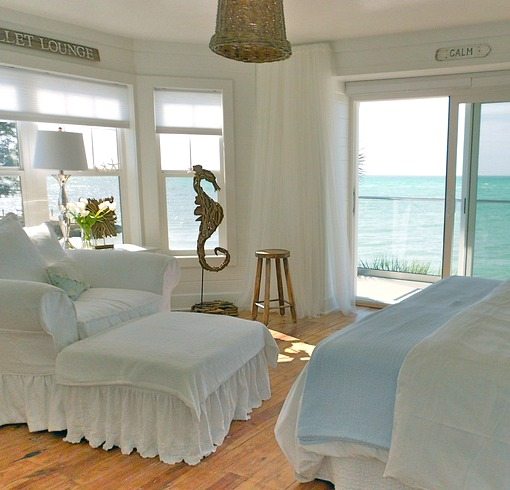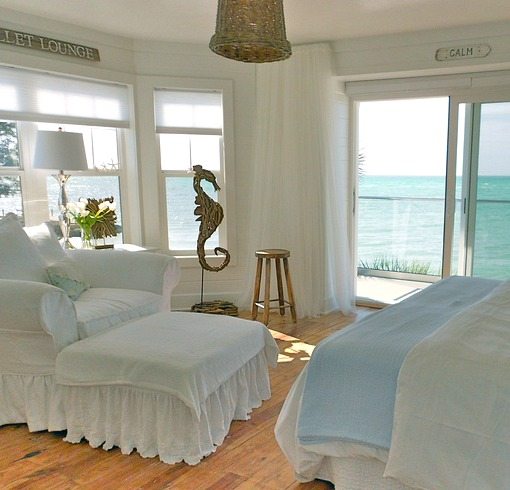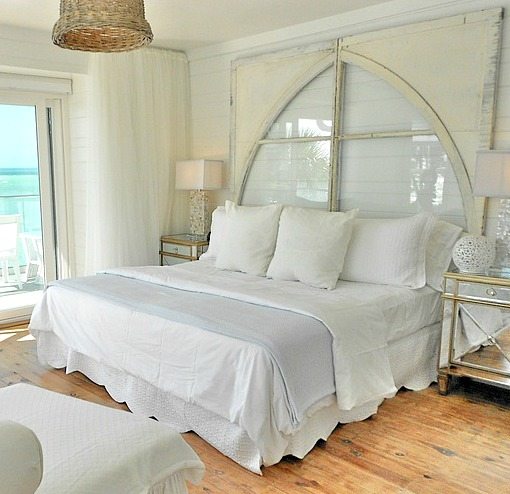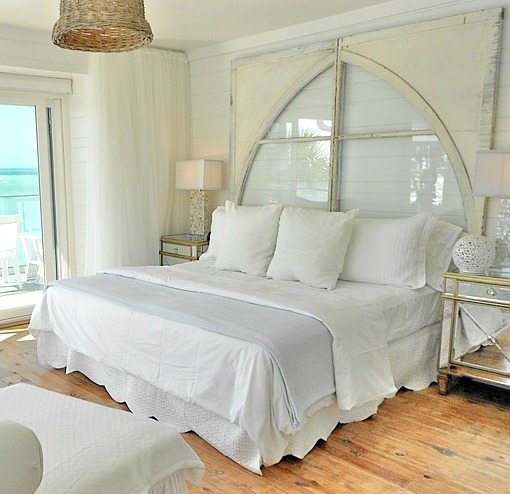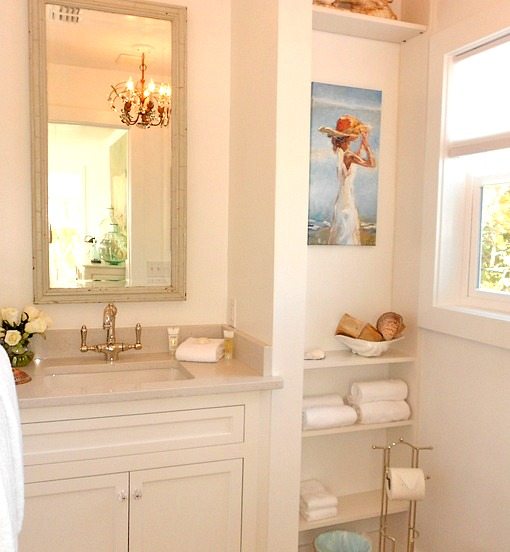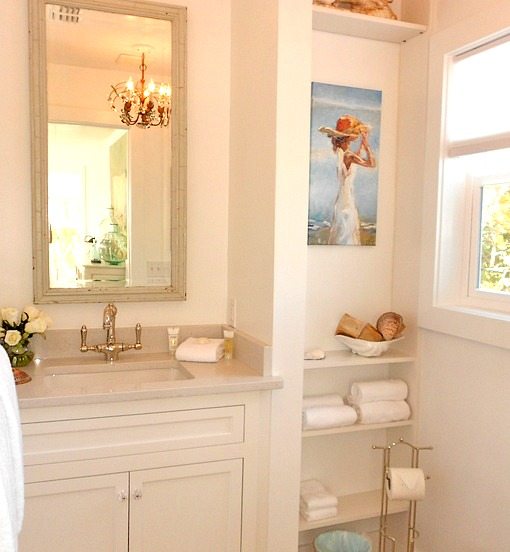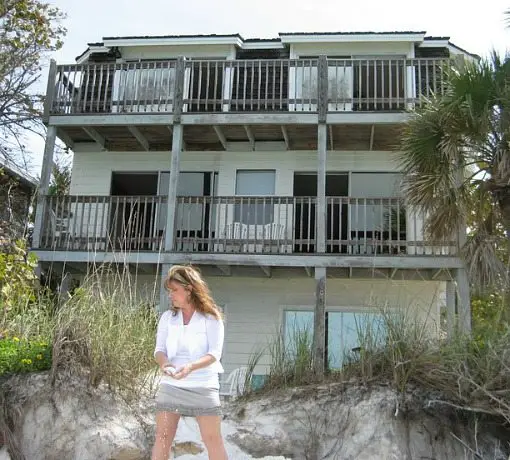 The house before the remodel.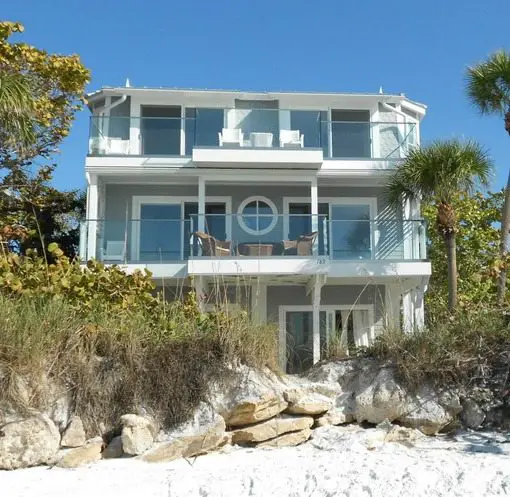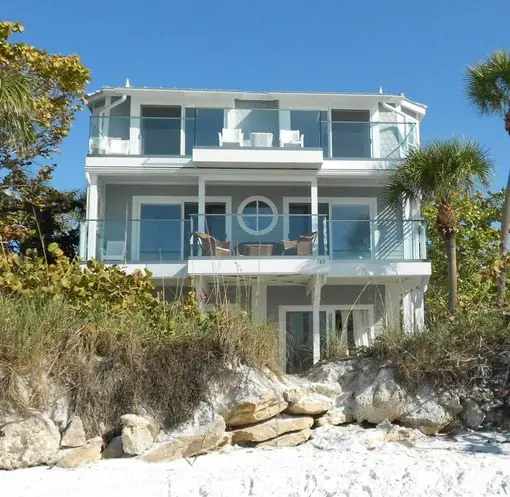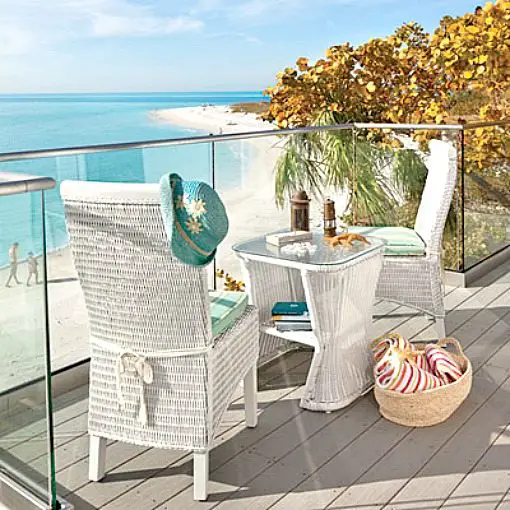 The vintage beach cottage was remodeled and decorated by artist Leah Anderson and her husband. They bought the place in 2011 for 1.1 million dollars. Not exactly a beachfront bargain property. This is prime location on Florida's Anna Maria Island, facing the waters of the Gulf of Mexico. Fabulous old rustic wood floors set the stage for the pure white beach cottage decor theme, with beaded-board paneling throughout. In the living room, sofas and chairs, even the ottoman coffee table are wearing white cotton duck slipcovers, as you so often see in Beach Cottages. The sofas are from Ikea, and I happen to have the same sofa in my living room. Some of the furnishings are from the previous owners, such as the chairs on the balcony, but fit right in after a coat of white paint. The vintage window headboard is quite a statement piece, found at Susie Holt's store Posh and Palm in Sarasota who's beach cottage is featured here, and the Basket Ceiling Light is charming, adding warmth and more texture to the space. And I'm such a fan of driftwood; all kinds of awesome creations are on display. From seahorses, to a Driftwood Tree, to a sailboat, and others. And here's a tip from Leah regarding white decor: "If you're going to go all white, texture is huge," she advises in an interview with Coastal Living magazine. "It keeps the space from looking too sterile."
Leah and her husband sold the beach cottage in 2013 for $1.75 million, and the new owners have listed the property as a vacation rental on Homeaway. The furnishings are pretty much the same, but Leah's art was removed, like the lovely painting in the bathroom of a Woman Looking out to Sea. Pictures of the cottage are from Leah's Pinterest board, except for picture number 1 (showing part of the living room) which is posted on Chez Fifi, and the balcony shot is from Coastal Living where you can learn more about the remodel.