Biking down a beachfront is a delightful way to spend the afternoon. It is also a great way to improve your health, both mental and physical. The act of biking releases all those feel-good chemicals great exercise brings along, like serotonin and dopamine, with that in your system you are going to feel good for hours. A beach cruiser bike is perfect to get that exercise in a comfortable way.
Couple that with the health benefits of getting fresh air, working out, and improving your circulation, science says you increase your lifespan by slowing the natural ageing process. What's not to like? You will look younger, feel happier, and feel healthier.
Is taking a bike down to the beach sounding like a good idea?
Will any bike do?
What is the best bike to take to the beach?
What Makes a Beach Cruiser Bike?
There is nothing stopping you from jumping on your old racing bike and cruising it down to the beach, but you will find many benefits from using a bike made for the beach. Allow me to explain:
The style: Beach Bikes are cruisers.
A comfortable ride: They are designed with comfort in mind, so you are not going to get sore as you enjoy a leisurely ride.
Balloon tires: The wider fat tires are able to take more bumps on the road and handle that slightly rougher terrain.
Durability: The bikes can be heavier because they are generally made of steel, but they will also be more reliable for your outing as they will be stronger.
Not built for speed: Sounds like a negative at first, but when you are cruising along a beautiful beachfront, do you really want to go fast?
Muscle-ease positioning: They are designed to give an upright riding position with arms that do not have to tense. Cruise for longer, ache less.
Other bikes, like the hybrid bike, the racing bike, the road bike, the mountain bike, and the electric bike, all have features designed for their purpose. This purpose increases or decreases the weight of the bike, the comfort of the seat, the types of tires they are fitted with, and the type of handlebars you will need to deal with.
As we take a look at the best beach cruiser bikes available today we will see how the design creates a better biking experience.
Schwinn Mikko & Huron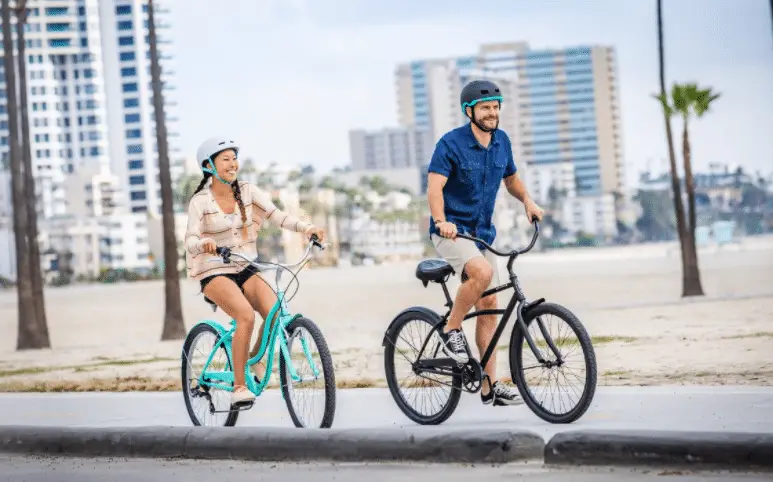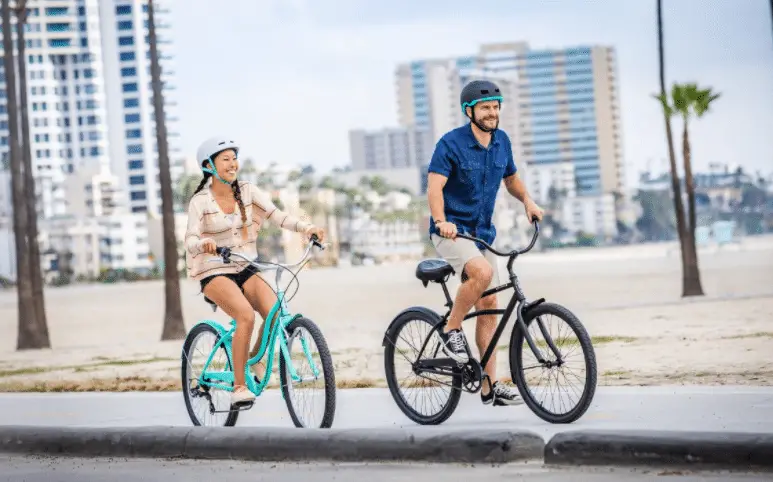 Break Type: Rear coaster brake.
Speed: Single speed.
Frame: Steel-framed.
Seating position: Upright position.
Wheel Size: 26 inch wheels.
Schwinn bikes have been around since 1895, so they have been around long enough to know how to make a good bike. Over the years they have gone from strength to strength designing award-winning bikes that the likes of Bing Crosby and Ronald Reagan enjoyed taking on a journey.
This Schwinn Mikko & Huron bike features:
Spring saddle: A wide, dual spring quilted seat for maximum comfort when travelling.
Wide Handlebars: Classic cruiser handlebars are easier on the arms and encourage upright biking.
Single-speed biking for that relaxing cruiser speed, although they do offer multiple speed bikes if you did want something that goes a little faster.
Fenders: Unlike many styles of beach cruiser bicycles, this one comes with a fender already attached.
Matching color chain guard to protect loose clothing from tangling in the chain.
With a steel frame and thick tires for added stability, this bike will cruise you along the seafront with relaxed effort on your part. Perfect for casual riding.
Other bikes in the Schwin range worth consideration: Regioneer, Suburban & Mikko
Micargi Seattle Cruiser
Brake Type: Disk brake.
Speed: Seven-speed options.
Frame: Steel Frame.
Seating position: Upright position.
Wheel size: 26 inch wheels.
Micargi bicycles have only been in the biking game since 1997 but they have already brought the world some great bikes. From BMX creations to beach cruisers their focus is on performance and stability.
This bike looks very different from the other beach cruisers on this list as it holds a retro design, yet it has some amazing points that show it to be just as easy and fun to ride as any of the others:
Comfortable riding: A wide comfy seat for a long-distance adventure, complete with three-fork shock absorbers and springs.
Wide tires: Fat tires that are built to take on rough terrain. They will easily travel over the sands of a beach. They also look aggressive and powerful making this a good suggestion as a men's cruiser bike.
Disc brakes for safety as it does come with up to 7 speeds. Single-speed variants are available on Amazon.
High-quality rear derailleur to switch speeds with ease.
The seven available speeds on this cruiser bike make it the perfect speed beach cruiser.
The chopper-style look of this bike, coupled with the smooth ride it produces when cruising along, makes it a popular bike for riding down by the beach. There is certainly a coolness factor to cruising the beach on one of these.
Other bikes in the Micargi range worth consideration: Bali, Cougar, Island & Fatal love. Worthy of note, Micargi also specialises in e-bikes, mountain bikes, Tandem bikes and more.
Sixthreezero Beach Cruiser
Brake Type: Front handbrakes and a rear coaster brake.
Speed: Single speed bike.
Frame: Steel frame.
Seating position: Upright position.
Wheel size: 26 inch wheels.
SixThreeZero is a newer company on this list as they have only been around since 2005. However, with a design philosophy of comfort, we can be sure that the bikes they create as cruisers are going to be some of the most comfortable to ride. Their aim is to design the most comfortable bike on the market. So, what do they offer?
While this bike is similar in style to many other beach cruisers, there are some points worthy of note:
Cushion springs, high density, support form seat: That's a lot of descriptive words for one pad! It certainly sounds like it will be a comfortable seat for a nice long-distance ride, as you watch the sunset.
Adjustable handlebars designed for upright biking and relaxed, tension-free joints.
Optional rear racks and baskets that can be fitted. This is great for when you want to do a little bit of shopping while you are out or take a picnic for when you hit the beach.
The chain guard comes in the same color as your chosen bike to protect any loose clothing from the chain.
This great bike may only be tailored as a women's cruiser bike, but they do have a men's equivalent. The bikes that they have created for men are also designed to prevent the aches and pains that usually come with a long ride.
Other bikes in the Sixthreezero range worth consideration: Sixthreezero evryjourney, & sixthreezero around the block.
Firmstrong Bruiser Beach Cruiser
Brake Type: Coaster brake.
Speed: Single speed cruiser.
Frame: Steel Frame.
Seating position: Upright position.
Wheel size: 26 inch aluminum wheels.
Style and functionality is the calling of the Firmstrong brand. They don't just want to give you a comfortable cruising bike, they want to make sure you look good riding it. That is what the plan was behind this awesome bike.
With a multitude of colors available and a sleek design that will raise eyebrows, this bike is a sweet ride for any guy. Female variations are available. The steel frame on this design allows for those men who find themselves to be taller than the average human. With a few quick alterations, they too can enjoy a comfortable cruise down the beach.
Heavy frame: This beach cruiser bike weighs up to 40lbs is an asset to the smooth ride and stability of this bike.
Oversized seat give plenty of comfortable room. The classic padded single coil spring saddle will keep you comfortable so you will not worry about taking a long cruise on this thing.
The wider cruiser-classic handlebars can be adjusted and tilted to your requirement. This means your arms are not going to suffer as you journey in your style, your way.
Color match fenders can be bought separately to keep your cruiser looking cool.
A fancy chainguard has the company branding swirling along it in a gorgeous fashion bringing a touch of elegance to the beach cruiser bike.
Cruising is a relaxing way to end your day or an exciting way to start one, with this bike you can tailor your ride to suit you and your lifestyle.
Other bikes in the Firmstrong range worth consideration: Firmstrong Urban Man, Firmstrong Urban Lady
Priority Coast
Brake Type: Coaster brake.
Speed: Single speed or a three-speed option.
Frame: Aluminum Frame.
Seating position: Upright position.
Wheel size: 26 inch wheels.
Priority Coast is a small NYC based company that started in 2014 through the Kickstarter program. To have been able to get the funding through Kickstarter, we already see that what they are creating is what people were after. With that in mind, and remembering that the goal of the priority bicycles is no-frills, high quality, here is one great looking bike.
For a bike with no frills it looks pretty and easily makes the best on the list with these amazing features not seen on any previous mentions:
Designed to prevent rusty chains.
Created to withstand the climate at a beach.
Made to stand firm against the attacks of salt, sand and water.
Ultra-light rustproof frame.
A low maintenance bike by most standards. Just keep an eye on breaks and bolts, they will rust and degrade as normal.
The aluminum frame is unusual as it makes a lighter cruiser frame, however, aluminum doesn't rust.
Instead of a regular drivetrain, you get the unrustable Gates Carbon Drive Belt.
All of this, and that is before we get into the regular features. Their seat does indeed have the wide and comfortable padding cruisers people enjoy, the handlebars are as one would expect of a cruiser. The tires are puncture-resistant and made to deal with beach terrain.
What more could you want from a beach cruiser? With all the advantages of having a bike that will last as long as this one, it is a top pick. However, there is a waiting list as they often sell out before they can finish making them, so if you want one of these cruisers for the summer, sign up early.
Other bikes in the Priority Range worth consideration: Priority Turi & Priority Continuum Onyx.
Your Boardwalk of Options
There are other great creators of beach cruiser bikes out there, and if you are not after a beach cruiser bike your options increase. Here are some amazing companies to watch out for.
The Huffy cooperation in Ohio makes a wide range of cruiser and commuter bikes in bright pastel colors, like the glossy pastel blue nel lusso cruiser bike
Shimano is a Japanese company that takes pride in its mountain bikes and urban bikes.
Kulana was once known as the creator of the best beach cruiser bikes, they still have some awesome, comfy, retro bikes available.
Joystarr bikes deal in bikes for the kids. A great selection here to start taking your young ones out commuting and get them pedaling.