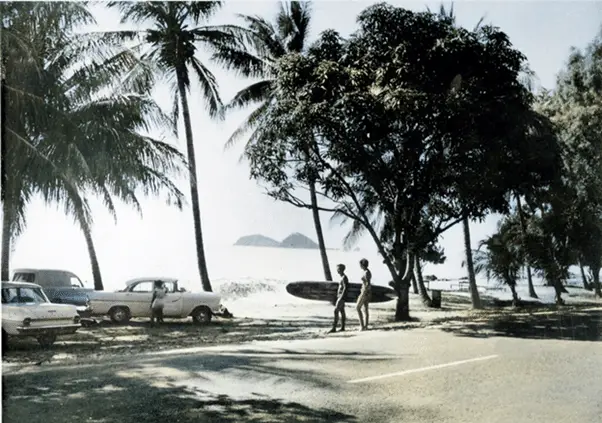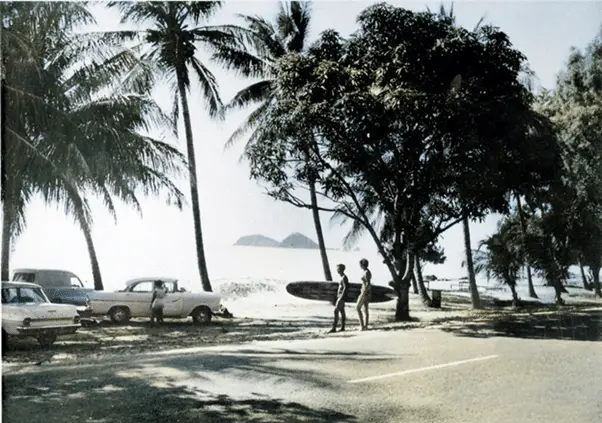 Beach living can be awesome! With the ocean on your doorstep for thrilling surfing, romantic sunset walks, enjoyable family beach days, sandcastle competitions, and some of the most beautiful scenery the coasts have to offer.
Having a car in a beach town comes with its own unique set of challenges. Sand gets everywhere. Parking becomes a nightmare in the months of tourism. Driving on the beach is a lot harder than driving on the road and can lead to you getting quite stuck. With all this in mind, we have created a list to guide you through 8 of the best cars for beach living.
What Makes a Great Beach Car?
This all depends on your beach town life.
If you are a large family then your idea beach car might be something like a Minivan or the Honda Odyssey which can achieve up to 144.9 cubic feet of cargo space if you needed it. While this is great for transporting surfboards to the beach, you may have trouble parking that big thing when the tourists arrive.
If there is only 1 or 2 of you, the game changes completely and you might find yourself looking at a Chevrolet Camaro Convertible but that's more of a sports car, something that you wouldn't need in a beach town.
Beaches are more laid back, there is no need to speed around in a chevy, there may be a need for four-wheel drive, especially if you plan on parking on the beach, or towing a boat, in which case you want to be looking at a pickup truck or a Jeep wrangler.
We'll be looking at a selection of cars from different makes, including the Toyota, Ford, and other off-road vehicles of high esteem. While fuel economy is important to the day by day living, in terms of living in a beach town, the coolness factor pretty much outweighs the need to know, If that Toyota has everything you want in a car, is the fuel economy going to really break your deal?
If a car has made this list, you can rest assured, they have what it takes to be seen as one of the best cars for beach living.
Beach cars have two key features that you need to look out for:
Design simplicity. While they can still look sleek and fashionable, they focus more on great function over styling.
Purpose. Whether we are talking about the ability to drive on sand and off-road or carry a surfboard, every beach car has a purpose.
Mini Cooper Convertible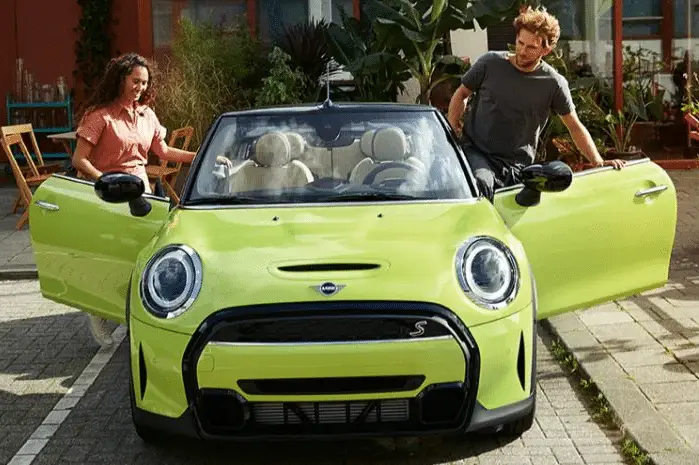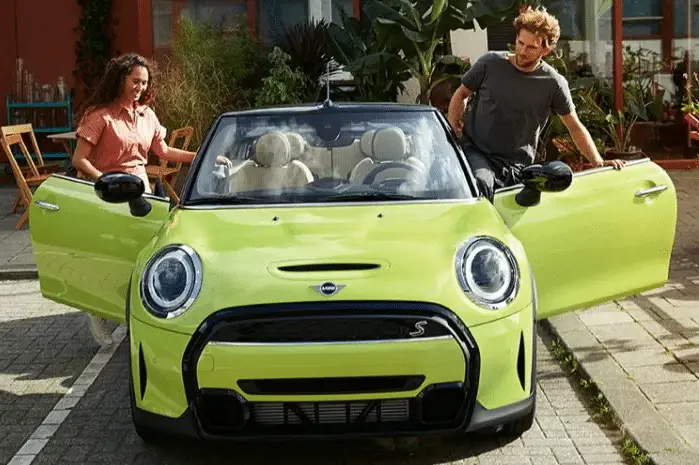 The Mini Cooper Convertible has been classed as the 2021 Intellichoice Best Overall Value Winner.
Ground Clearance: 4.5
Horsepower: Up to 229
There are many types of Mini Cooper Convertibles available, but if you were to aim for the latest and greatest of these then you would be looking at the Mini John Cooper Works Convertible. This car has been classed as the 2021 IntelliChoice Best Overall Value winner.
In terms of being a beach car, the cars in this range come with the option of being a 4-wheel-drive. The convertible nature of the car makes it a fun and refreshing car to drive on a sunny day. The small size of the vehicle allows for easier parking. Yet, it is still being big enough to comfortably seat a small family.
It is not a car you would transport a surfboard in, but for travelling around a beach town with that celebrity feeling, and for driving and parking on the sand with the use of the 4-wheel drive, this car is worth considering.
Porsche Cayman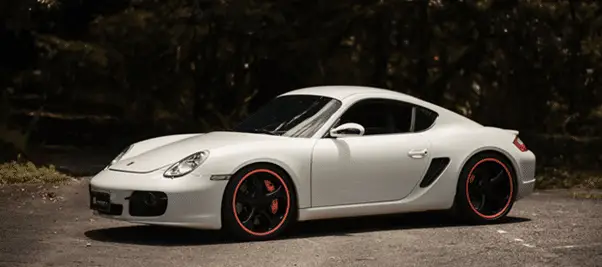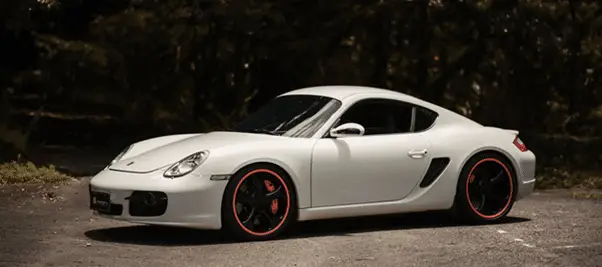 Ground Clearance: 4.3 inches.
Horsepower: Up to 385 hp.
The Porsche Cayman is a nimble little 2-seater car. It is fun to drive, easy to park, and has two storage spaces, one in the front and one in the back. with up to 27 mpg, this little vehicle can take you on that road trip you always wanted to go on.
While it lacks the 4-wheel drive that makes driving on a beach easy. This car can still zip you and a friend around a beach town with whatever you need to take with you. The fact that it is only a two-seater makes this car perfect for a couple, or an adult, living on their own by the sea. When it comes to carrying your beach gear you have a surprising amount of space.
Five-foot eleven inches. That is how big a surfboard you can fit in this roomy car. However, if you would rather keep the space inside the car, you do have the option to fit roof racks to this beauty. Then you can transport surfboards, canoes, and bikes.
Mercedes AMG G63 Carlex
Ground Clearance: 15.75 inches.
Horsepower: 577hp.
We are talking about the yachting edition, cause nothing says beach car more than a car designed after a yacht. Designed specifically for enthusiasts of marine design this car comes with all the features of an SUV and couples it with the beauty of life by the sea.
As a beach car, this will hold all of your needed beach time goodies. Whether we are talking about roof racks or space in the boot, the Mercedes AMG can handle it. In fact, with the rear seats down in this vehicle, you have nearly 69 cubic feet of cargo space. (39 cubic feet of cargo space if the seats are up). The horsepower in this vehicle, coupled with its off-road capabilities, makes it great for driving on the sand.
Mercedes' ability to tow means you can use it to transport your own little boat to and from the ocean. You can even help tow the unfortunates who get their cars stuck in the sand.
This vehicle's power combined with its sleek design will give you and your family a talking point at all those beach town events.
Citroen C4 Cactus
Ground Clearance: 5.1 inches.
Horsepower: 110hp
An older car from 2014, the Citroen has air bumps mounted on the side. A unique feature that makes it worthy of this list. The air bumps are designed to protect your car from parking knocks, surfboard knocks, people walking knocks, and bike knocks. Very handy features when it comes to a beach town.
Despite its bulk, this car is capable of 50 mpg when driven carefully making it very fuel-efficient, and its co2 emissions are low, making it an economic option.
Being a crossover between a family hatch and an SUV, this car has the power to drive on beach sand. It also has the room to take care of your family, is full of safety features, and makes a fun drive. Note: It is said the automatic is not so fun to drive and can be a bit bumpy, manual versions of the car are recommended.
This car covers all the bases that you will need for your trips from your beach house to the beach itself, with space in the boot and a roof rack for your beach time gear.
BMW 4 Series Convertible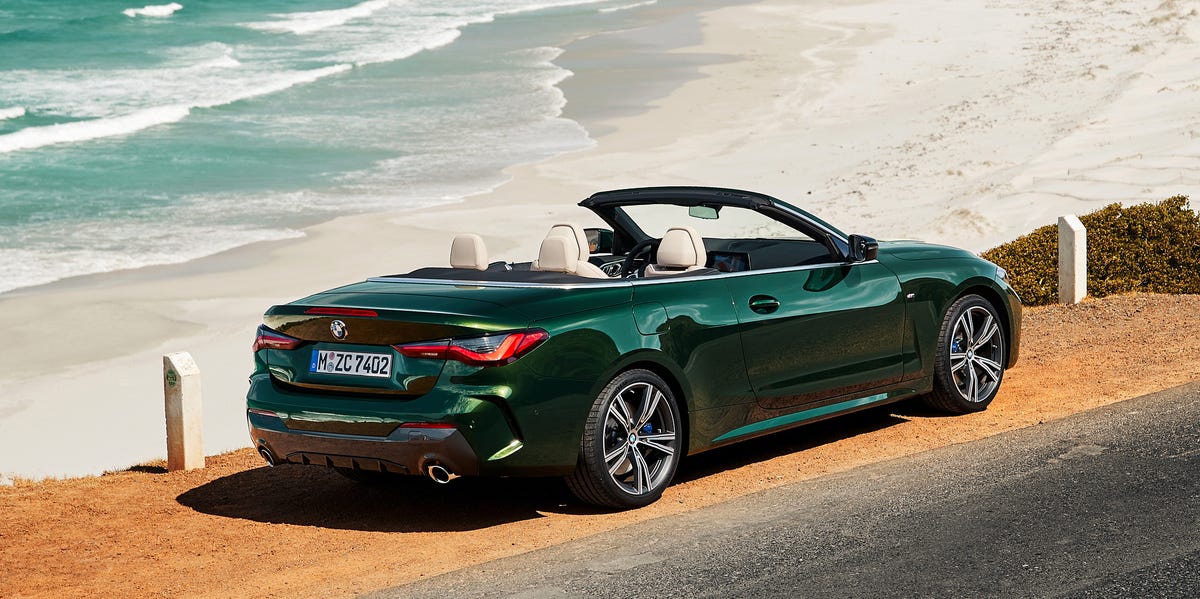 Ground Clearance: 5 inches.
Horsepower: 255hp.
Let's face it, nothing is better at a beach than a convertible. The thought of letting that roof down and enjoying the summertime breeze is compelling in many ways. If you have your heart set on a convertible, this BMW brings that summer holiday feeling wherever you drive.
A flawless piece of engineering, this car will get you around your beach town in style. The 4-wheel drive will make beach driving both fun and safe, while the 8-speed gearbox makes driving reliable and easy. Narrow and smaller boot space limits your beach gear. However, with suitable measures taken, you can get your beach gear in the back seats of this car.
Enjoy the feeling of living the movies with a pair of sunglasses making you look cool and your hair flying in the wind. Road trip, anyone?
Beach Jeep Wrangler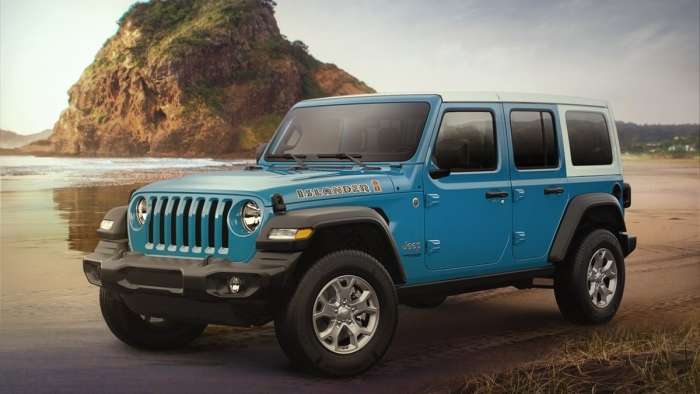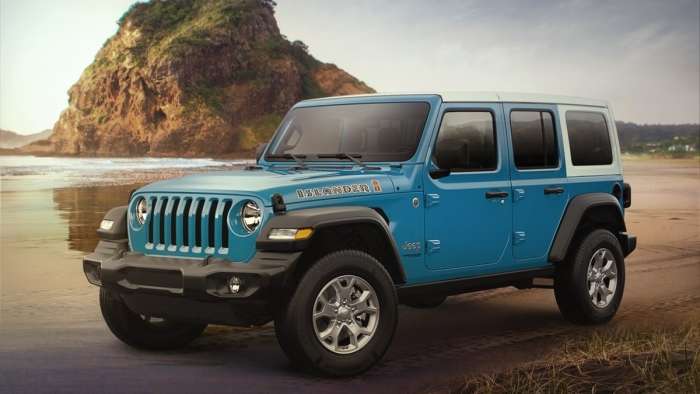 Ground Clearance: 10.9 inches.
Horsepower: 285hp.
When we talk beaches, we think about long stretches of sand met by water that vanishes in the distance. When we talk Beach Jeep Wrangler, we are talking about a jeep so well designed for the beach that it can take on sand dunes.
The Jeep Wrangler is one of the best cars you can have as an off-road vehicle and boasts up to 20 mpg, which isn't bad for a jeep.
We say convertible, we think roof that rolls up and down. Beach Jeep Wrangler convertible means taking the doors of whenever you want, rolling down the windshield, opening and closing the roof, all in quick easy steps.
It has the space you need for all your beach goods. Plus different areas of hidden, lockable storage for when you are parked at the beach without your doors. Jeep has thought of everything with this beach vehicle.
Designed with beach living and beach towns in mind, this is the best car for beach town living!
Toyota 4Runner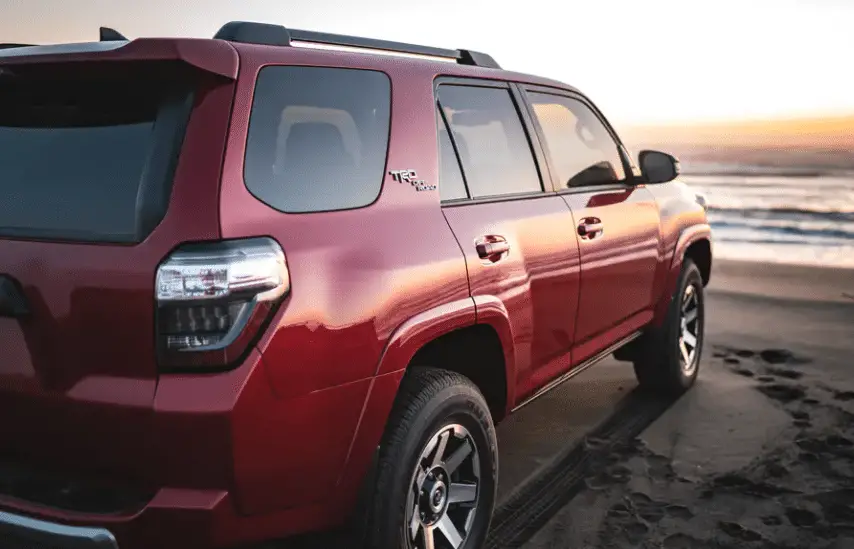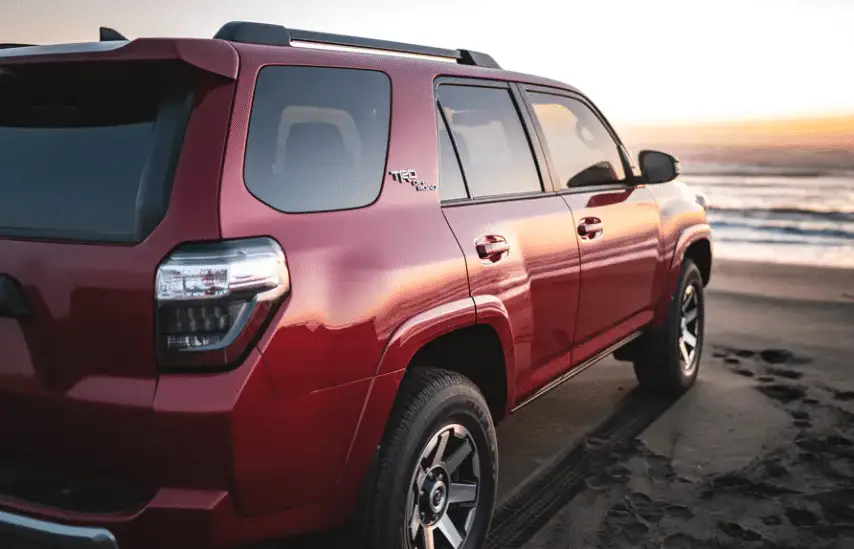 Ground Clearance: 9.6
Horsepower: 270hp
A popular car for good reason. The Toyota 4Runner is one of the few authentic SUVs that reman as most have evolved into crossover vehicles. Its all-wheel-drive capabilities still impress people today.
With 89 cubic feet of cargo space, when the rear seats are down, you will have all that vital room for your beach essentials. With the rear seats up the 4Runner still has 47 cubic feet of cargo space and with roof racks and back racks available you will have no problem transporting your surfboards, canoes, or cruising bikes, down to the seafront or even beyond.
As this car is built off-road exploring, this really is the vehicle to take on the road trip of a lifetime!
Probably the most reliable of cars on this list in terms of lasting forever, the version of this car with the model year 2017 won the 2020 Midsize SUV award for the highest dependability ratings. This means, when it comes to the Toyota 4Runner, that even the used cars on the market have life in them yet.
Ford Mustang Convertible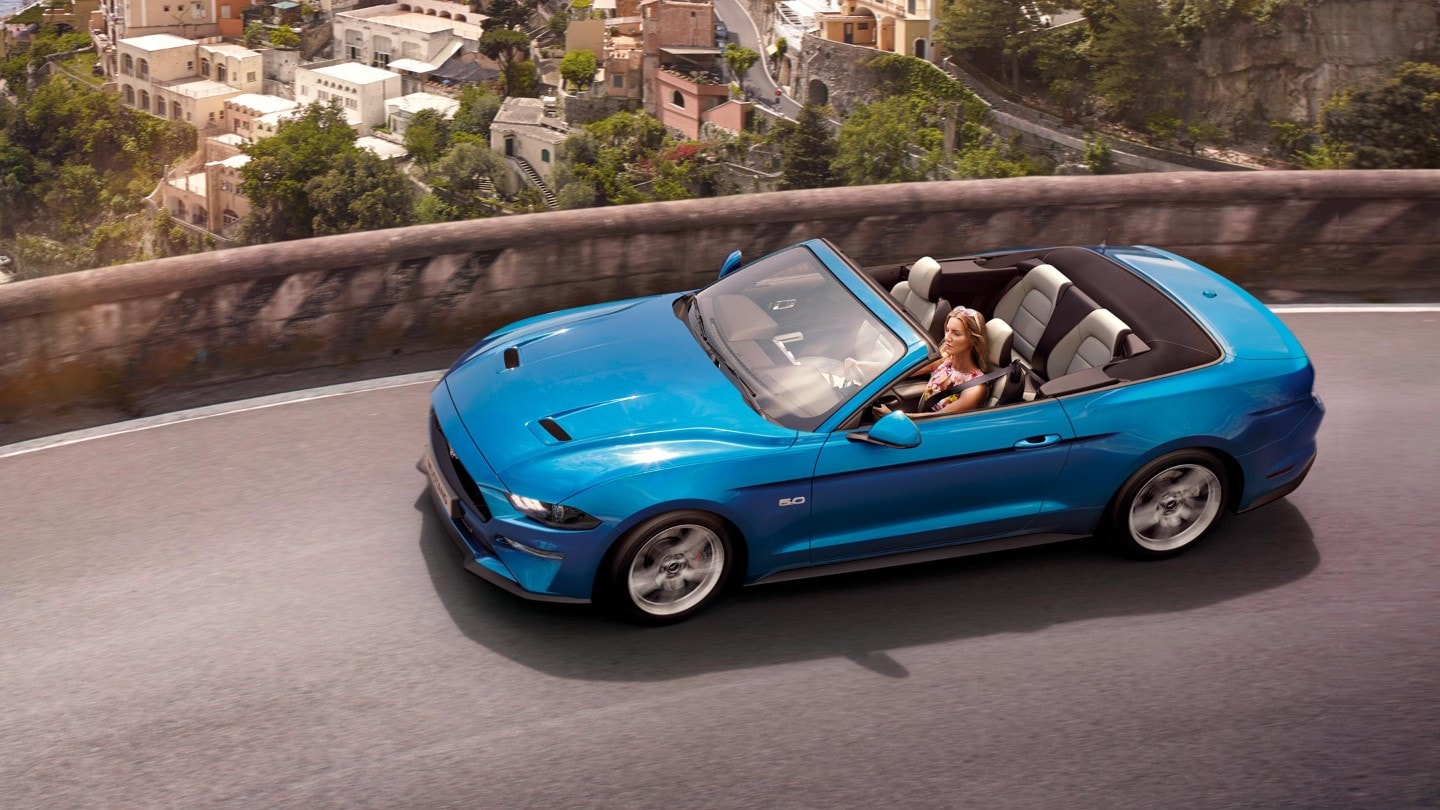 Ground Clearance: 5.3 inches.
Horsepower: Up to 460hp
A good convertible makes you want to go to the beach, a great convertible makes you want to live there and drive around it all day long. The Ford Mustang is a great convertible to have in a beach town. It looks sleek, you can put your surfboard on the backseat, or attach it to the roof if you choose the hardtop.
Filled with high-end technologies designed to make you enjoy your driving experience, you can concentrate on enjoying the world around you while Ford gives you have a non-bumpy ride. While it doesn't have 4 wheel drive, it does come with some very smart features, like:
Connecting to your smartphone so you can instantly see your cars current health.
Voice-activated services so you can go hands-free with your phone, music or infotainment, and navigation.
With 11.4 cubic feet of cargo space, it doesn't have a lot of room, but it is built to make you soar.
Why not check out some more great beach ideas while you are here? Check out some of the Best Beach RV Parks, or read about The Bahamas? Maybe check out some beach themed decorating ideas for your home.