A beach house vacation is often accompanied by delicious cocktails at a beach bar. So, for your garden to really give the energetic summertime feels of being at the beach, it is going to need an outdoor bar. 
There are many styles of beach bar you can use to accomplish this. Check out these best beach bars that are worth visiting for extra inspiration. Among the most popular are:
The Tiki Bar
The Surfboard Bar
The Cabana Bar
Here is an idea on how you can replicate the look of each type of bar in your garden by controlling the accessories and color scheme of a regular garden bar. 
Creating Your Own Tiki Bar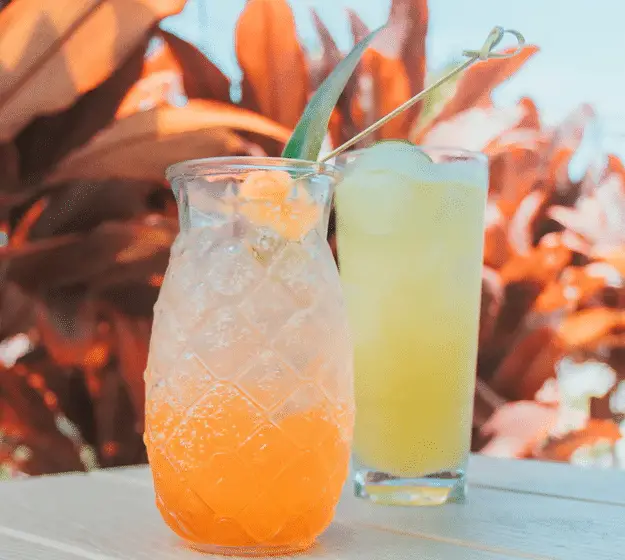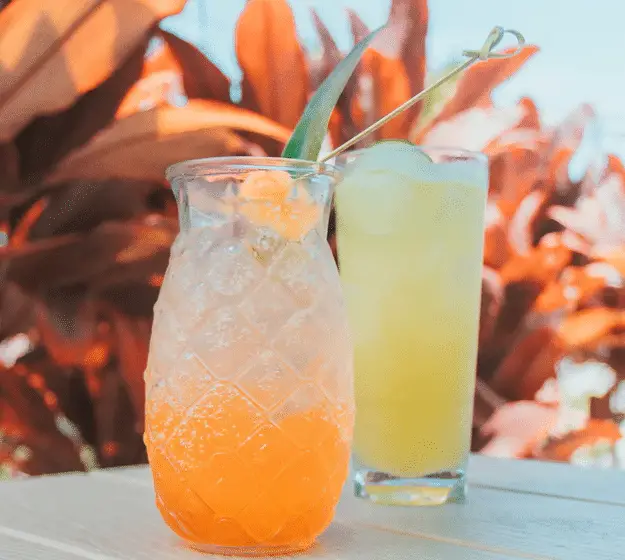 A Tiki Bar is going to emulate the style of the Tiki culture. To create the tiki bar experience in your garden you are going to want to include: Tiki Masks, Tiki Carvings, Hula girl Motifs, Tropical Murals, Bamboo, Grasscloth, Rock and Lava stone, Water Features and, of course, a Tiki hut.
The Tiki Bar look is going to be a host of natural colors and textures meeting exotic colors of Tiki culture. Mix this with soft lights and live music and you have yourself a Tiki Bar.
Think about the flowers of Hawaii, plant life with large leaves, maybe a palm tree or two. Then, when you have the look, serve refreshing cold drinks with tacos.
Creating Your Own Surfboard Bar
A Surfboard bar is aimed at recreating the thrill of playing with the ocean. You will often find surfboards used throughout the creation of the bar, they will be used as wall decorations, bar tops, bar sides, maybe even on the roof.
The color scheme will cover the vivid blues of the ocean and the bright colors of the surfers that go out to ride it. Keep up the bright colors with the flowers of Hawaii, add flip-flops to the scene along with an outdoor seating area and you have a home bar to be proud of. 
While Tiki likes its cocktails, the surfboard bar is more likely to stock cold beer, craft beers, and barbecue.
Creating Your Own Cabana Bar
A Cabana bar is a more relaxed beachy bar. This will have all the natural elements of being at the beachfront, like the grasscloth, the water features, and palm trees. This bar will be more of a beach getaway. You are not going to get the bright colors of the other two bars on this bar. 
Flip flops are likely to be incorporated into the design along with seashells, starfish, crabs, and other sea life you may find on the beach. The bar is going to be more elegant with warm lights and comfortable bar stools.
The Cabana is more like to serve margaritas over the soothing sounds of the ocean and gentle music. Add a hot tub and you have the perfect place to chill out at the end of your day.
Beach Bar Essentials
There are a few things that every single one of these bars are going to need to get you started. And we are not talking about the alcohol. 
You are going to need a bar.
Sure you can create a bar out of pallets if you want a natural look for that Tiki Bar, you can even repurpose old cabinets or build one. On the other hand, you can simply buy a plain, sturdy, weather-resistant outdoor bar from amazon, then decorate it to your desired tastes.
You will also need bar stools, a bar table isn't essential but nice, and a way to keep your drinks cold, so a cooler is also essential to a decent bar. 
Here are some top quality items on Amazon that will work for any of the three types of bars you can create. 
Full Service Bar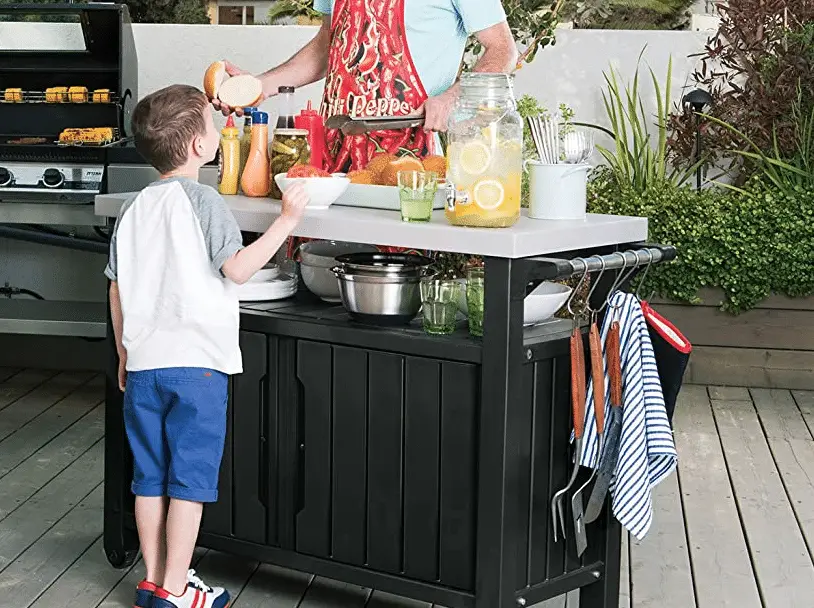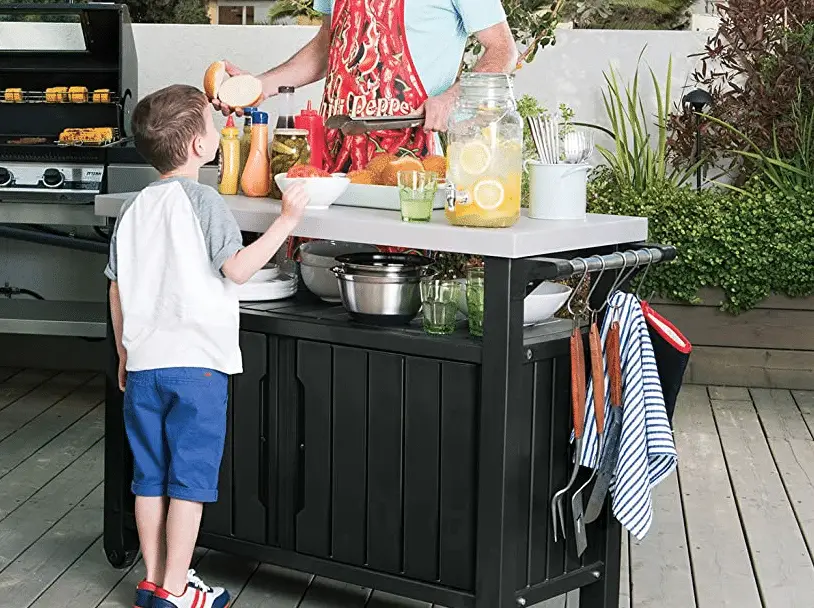 This bar has everything you need to get started. 
It is made of water-resistant resin but designed to look like natural wood. It has the surface area for you to create your drinks, two bars on either side for you to use as hanging space, and the storage space under the bar for your drinks.
Having your bar is the start of everything. It is the command centre of your beach bar garden. Now you can get that awesome beach feel by designing around it with your own choice of theme.
Bar Stools
A Barstool set that comes with a table provides the opportunity for an outdoor dining room. Enjoy your tacos with a cold one from your bar as you relax in these all-weather stools. 
Created with an aluminium frame and breathable textile fabric that is durable, weather-resistant, UV resistant and quick-drying. These chairs are perfect for outside. This particular set comes with its own table, made to the right height to work with the chairs. 
The comfortable design is so you can enjoy your happy hour as you relax in your garden beach bar.
Bar Cooler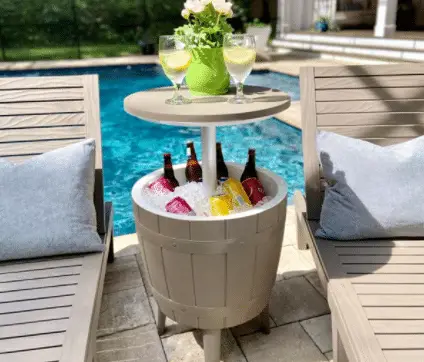 You are not going to manage to get a cold one on a hot beach day unless you have the means to keep the drinks cold. 
This is a beer and wine cooler that also hosts a cocktail table on the top. Perfect if you need an extra surface at your bar, or if you want to display some themed decor. 
Made with all-weather resistant polypropylene material, you can count on this cooler to last. 
Put these three items together with the decoration style of your choice, and you have the beach bar that people go on vacation for.