There was a time when no respectable ship could sail without a figurehead leading the way and watching over the shipmates. While your modern crew may not respond to threats of painting the figurehead black or other drastic actions, you can still give your boat a touch of history by adding an artistic figurehead to the stem. Figureheads are also collector's items, and any nautical-themed home or room deserves at least one to protect against rough waters. There are few figureheads as alluring as the mermaid, and we've identified five of the best maidens of the sea ready to embellish your boat or your collection.
The Lady Anne was a British cruise ship that escorted a quarreling married couple straight into the Twilight Zone, but you can keep your feet firmly planted in the world you know when this Lady Anne comes into your possession.
Crafted from lightweight fiberglass and then painted to look like a royal lady saluting the sea, this detailed mermaid will mesmerize with finely painted facial features and garments fit for a queen. While she's not prepared to withstand the weather, you can finish her off with polyurethane if you want her to stand guard outdoors.
Few things stay pristine and shiny when you live on the ocean, and living under the ocean is even more tragic. To capture the spirit of the Titanic and many other ships left to age at the bottom of the sea, add this finely weathered mermaid figurehead to your nautical décor.
Made from strong fiberglass resin, this wall hanging allows you to decide whether your mermaid wears her clam shell bra or goes the all-natural route. You simply tape or glue the shells in place when it's time to take cover. With an expectant stare of urgency, curly hair with a drenched look, and a detailed tail flipping up behind her, your mermaid is ready to resurface and grace any room with shipwrecked intrigue.
Who says a mermaid has to stand at attention all the time? Sometimes a lady needs to relax, strike a pose and deliver a come-hither stare. That's exactly what you get with this antique reproduction of a wooden mermaid figurehead.
Each piece is carved by hand from quality wood and then painted to reflect an authentic mermaid figure straight from mythic tales of the sea. She's stretched out on her side with long hair falling over her shoulders, and her curves are enough to demand the attention that your nautical décor deserves.
Go back to the 1850s with this unique poly resin figurehead that pays tribute to a beloved steamboat that met its destiny at sea just off the shores of California. Passengers were merrily preparing to enjoy a meal aboard the Jenny Lind when hot steam burst from the broiler room and scalded everyone unfortunate enough to fall in its path. Taking more than 30 lives, this is a nautical nightmare that history will always remember.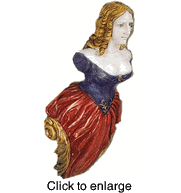 It's an interesting story to share with your mates, and this colorful figurehead is the perfect way to bring up the subject. Unlike the many weathered mermaids that reflect the harsh life of seamen, this fair-skinned beauty holds her head high with long curly locks and a low-cut gown painted a rich purple and scarlet red. If you enjoy sharing stories of the sea, this is a fun figurehead to add to your nautical display.
Are you looking for a statement piece that will add value and intrigue to your mermaid or nautical collection? This standing mermaid is fit for display in any room of your home for decorative purposes, and it's an amazing collector's piece for anyone interested in sea-inspired artwork.
Each mermaid is carved from high-density wood, and the details imparted on each piece are remarkable. Standing with her arms folded behind her head, this mermaid's curvaceous figure and finely carved facial features will grab attention from across the room. The tail stretches to the ground and folds at the end to hold the carving erect. She's the ocean's version of a ballerina ready to glide across the stage in pointe shoes.
Every vessel will encounter choppy seas at times, and you never know when a hurricane will threaten to wash you under. Keep up with the tides by embellishing your nautical collection with at least one of these well-crafted figureheads portraying mystical mermaids. From modern and sexy to authentic and weathered, there's a mermaid figurehead for every collector and every boat.