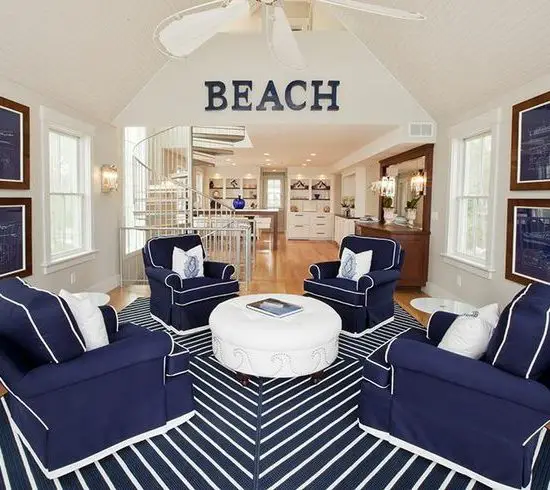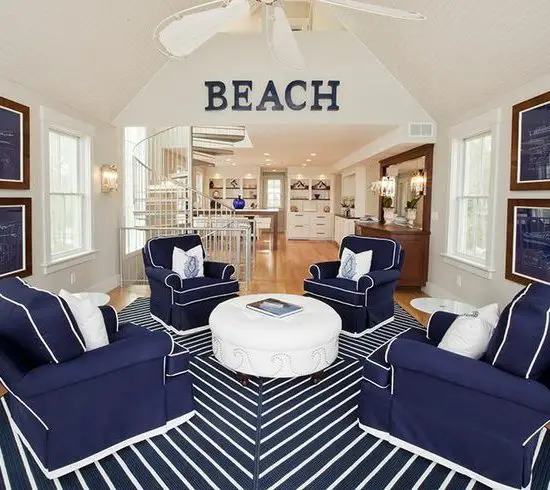 Designer Nancy Boughton has created a dramatic and classy sitting area with a modern edge in the carriage house of a Maine home in Kennebunkport. The beach design includes a large wall mounted letter sign and a white nailhead wave ottoman as a coffee table.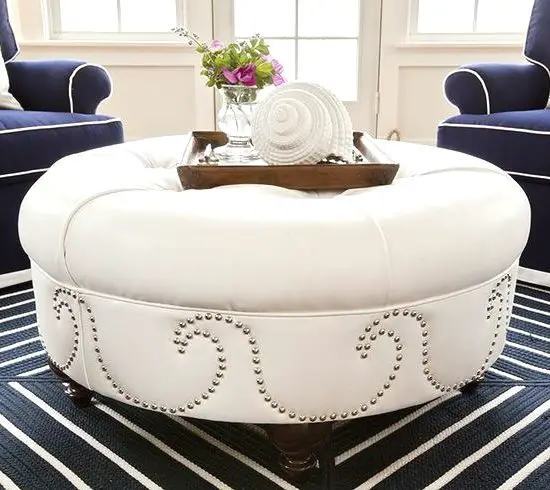 Nailheads, a timeless classic traditionally used on the arms and edges of furniture, can now be seen on all kinds of home furnishings, including ottomans. The nailhead wave pattern ottoman is a design idea for beach and surf enthusiasts who want to pay homage to the sea with a modern edge. Nancy utilized marine vinyl to cover the ottoman, then added the eye-catching nailhead wave pattern to it.
You can apply a nailhead wave pattern onto any simple round ottoman, such as the Oatmeal Ottoman from Bellacor, Espresso Ottoman from Target, or Seagreen Ottoman from Amazon.
Tips to create a nailhead wave pattern for an ottoman:
I have never created a pattern with nailheads, only a nailhead trim for my headboard which was a breeze to do since nailhead trims come as a roll. With a pattern like this you need to draw it out on paper and determine the distance between the nailheads. So draw the wave on paper, make the dots for the nailheads, then punch little holes through the dots. The dots will tell you how many nailheads you will need to make your wave pattern. Tape the pattern tightly around your ottoman, and let the hammering begin!