Nothing can make a room look more beach-inspired and tropical than a sand dollar rug. Featuring beautiful coastal designs and patterns can instantly imbue any room with the majestic vibe of the ocean. If you are not quite familiar, sand dollars are also known as sea cookie, snapper biscuit, or pansy shell. Sand dollar rugs come in different colors, designs, materials, sizes, and shapes. Whether you are looking for a nautically-inspired rug to add in your room or wanting to express your whimsical personality, you will surely find what you are looking for with our top selections for a next best sand dollar rug.
Sand Dollar Rug Buying Guide
First, you need to know which type of material would suit your needs. Sand dollar rugs are typically made from high-quality materials like natural jute fiber, hand-woven acrylic, and polypropylene. If you need an indoor or an outdoor sand dollar rug, the best material to choose would be polypropylene. Sand dollar rugs made from polypropylene can be used inside or outside of your beach-inspired home. Not only that, rugs made from polypropylene are also easy to clean which means that you will not have to go through the hassles of cleaning a dirty rug.
Sand dollar rugs also come in different sizes and shapes. You should always check the size of the rug you are buying to avoid the need of returning it. Choosing the shape is mainly up to your own preferences. Typically, you may find round and rectangular rugs. You may also be allowed to customize your rug.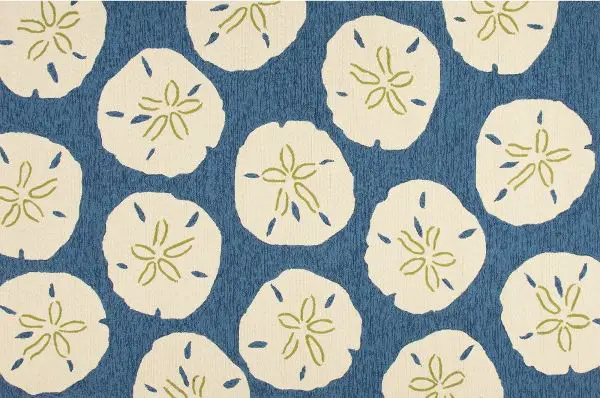 This sand dollar rug by Jaipur perfectly exhibits the ocean vibe we want with its pacific navy blue color and ruggedly chic sand dollar pattern. It also features amazing color combinations of chino green, woodbine, mosaic blue and dark blue. It is our top pick not only because of its design but also because of the material used in making it. This sand dollar rug is made from 100% polypropylene which only means that you can place it in any part of your beach home; whether you want to place it in the patio or inside your room, it will definitely add the nautical vibe you desire. It also features backing for safety. The rug is 5′ wide, 7.5′ long and 1/4′ thick. For additional comfort, protection, safety, and longevity, this rug can be combined with a rug pad. It is the perfect image of a casual seaside lifestyle!
If you love the good combination of nautical designs but prefer neutral colors, this natural sand dollar and seashell rug will be your go-to option. Like our third top pick, this rug is also UV stabilized and made from polyester and acrylic. However, it comes in a smaller size. It is only 30′ wide and 48′ long. It would be perfect for smaller room spaces.