Fishermen toss lobster traps overboard in order to capture the devilish-red sea creatures that so many of us enjoy at dinnertime. Made from wire, wood and thick netting, these traps add a rustic flair to any beach home.
If you don't have an authentic trap to put on display, pull your inspiration from these creative pieces. With the right lobster-inspired accent pieces, your guests will nearly smell the ocean as they take a closer look at your unique home decor.
1. Lobster Trap Display Table
Do you have a few show-stopping shells that you want to put on display? Trap them under glass with this intriguing coffee table. The bottom of the table is crafted from durable wood with a weathered look, and the trap's netting adds visual interest in the center.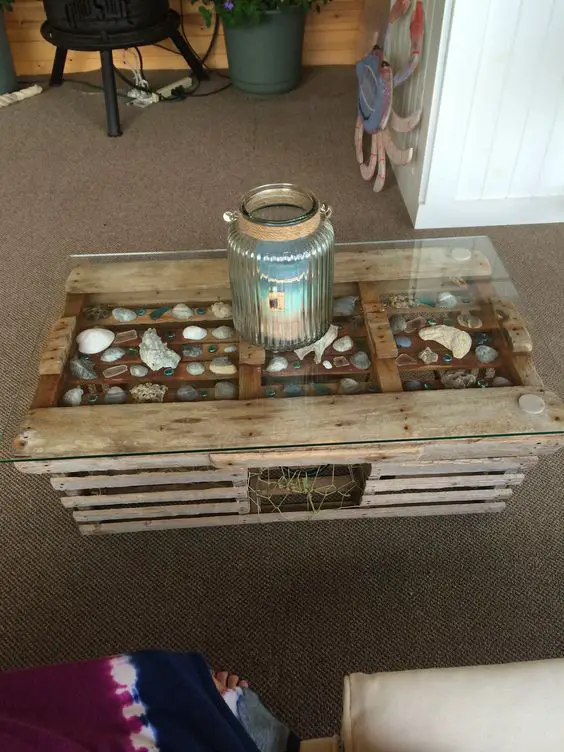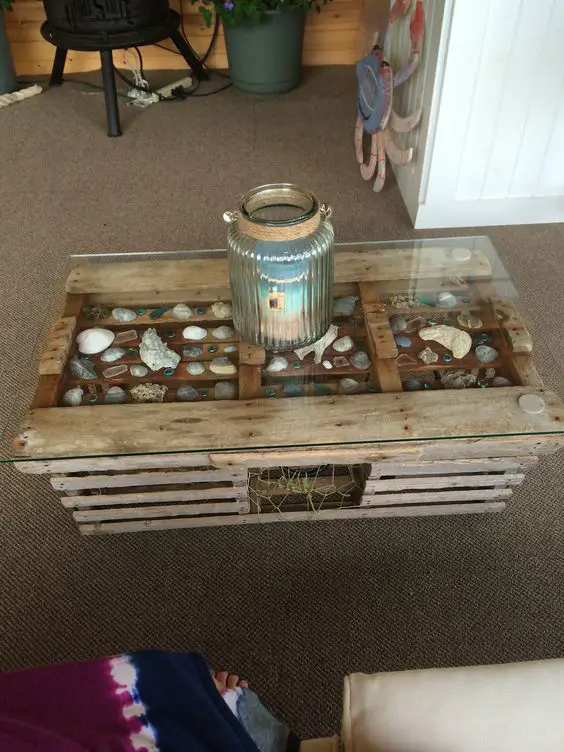 The top features display space for shells or other beach treasures that you've discovered. This is a crafty creation from Pinterest, but you may find ways to create a similar table all your own.
2. Lobster Trap Card Box – versatile & so cute!
I love this Pinterest-featured card box because there are endless ways that you can use it in a beach house. The wooden trap design makes it easy to slip cards, folded paper and many other small objects into the trap.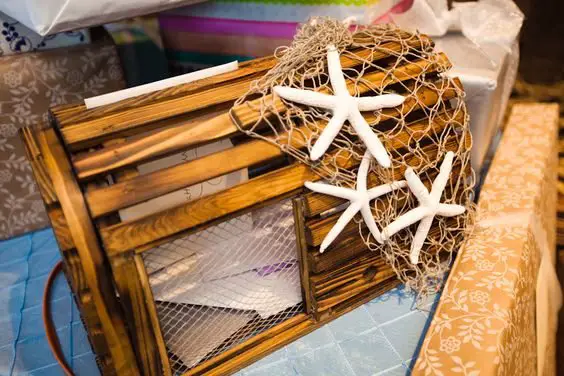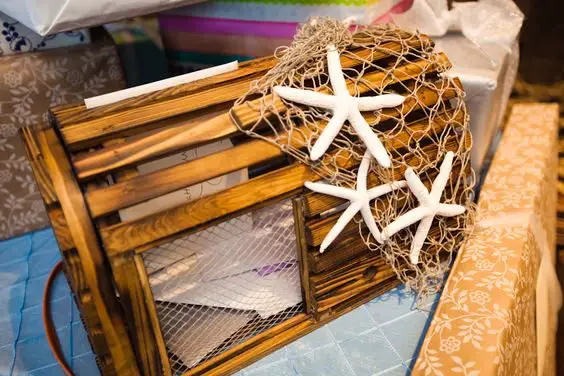 The netting and shells are fast and easy to apply, so this is a simple craft that turns into functional home decor. Cut the clutter by trapping your unopened mail, birthday cards, restaurant menus or love notes!
3. Lobster Buoy Lamp – a budget-friendly recycling craft!
Take those old lamps out of storage, or hit the yard sales this weekend to find a few worthy of transformation. Use this Pinterest creation as a general guide, but vary the size, shape and color of your lamps to create the perfect lighting for your beach home.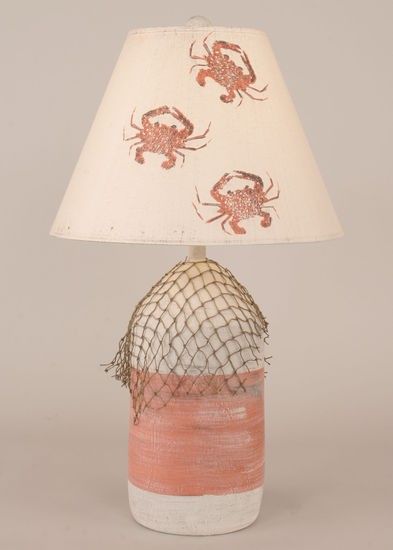 Simple lobster-shaped stencils, paint and a bit of netting is all you need to bring one-of-a-kind buoys into your world.
4. Lobster Trap Mailbox
This unique mailbox will add a splash of character to your outdoor living environment. With an arrangement of lobster claws, seahorses, fish and shells, this is the perfect way to spice up your home's curb appeal.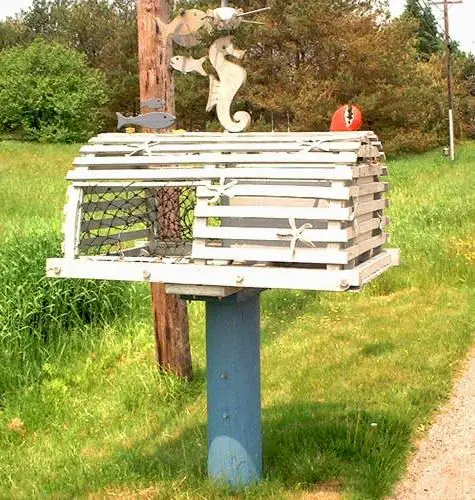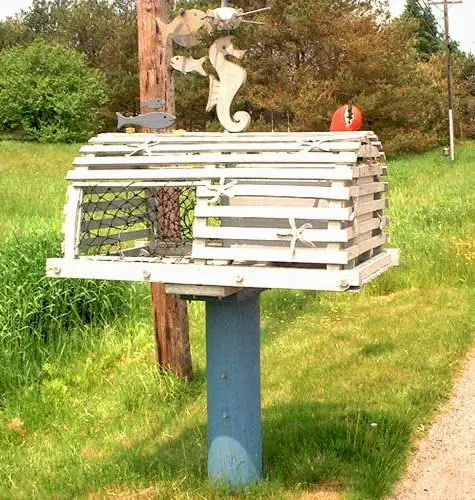 The netting gives the trap an authentic appearance, so be careful when reaching in to snatch your mail. This is another Pinterest inspiration that you can duplicate with little investment of your time or money.
5. Decorative Lobster Trap – Each Trap Is Unique!
If you don't have the time or desire to make your own lobster trap, order it from this nautical-inspired retailer. Each trap is constructed with durable wood that gives the decoration an authentic lobster trap appearance, and then they're embellished with rope, netting, seashells and a lobster.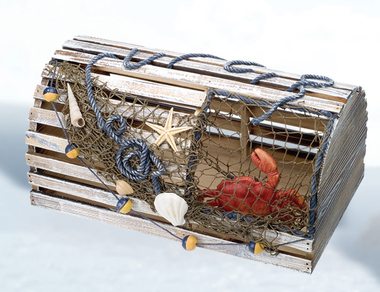 Different shells are used for every box, so you receive a unique creation for your home. This is the perfect way to add a pop of color to any room.
6. Decorative Maine Lobster Trap Buoy – A handcrafted treasure
You can't create a well-decorated room without paying close attention to the small details. These handcrafted wooden buoys are a fast and easy option for transforming any nautical-themed room into a visual treasure.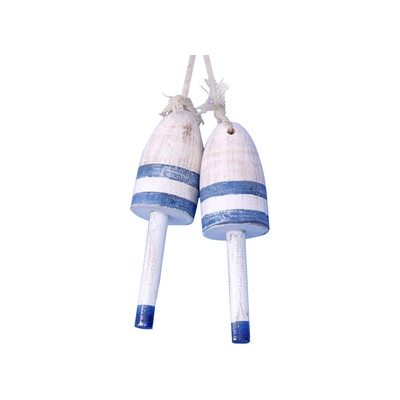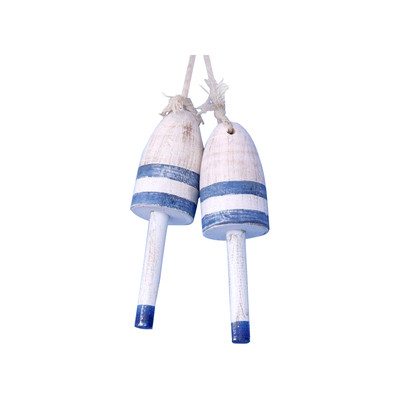 You get to select a color for the lines painted on each buoy, allowing you to turn a simple Wayfair product into a decorative item that fits your home perfectly.
7. Lobster Trap Wine Rack – A touch of sophistication
Imagine pulling a well-worn lobster trap from the ocean and transforming it into an elegant point of interest for your beach home. That's exactly what TrapWorks did with this nautical-themed wine rack.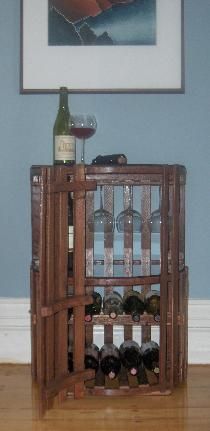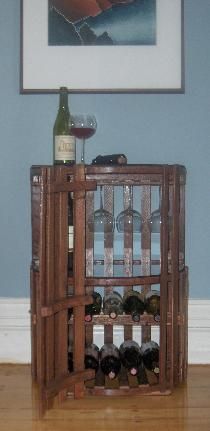 The trap's wood is polished and offers clean lines that open beautifully to space for your favorite bottles of wine. You can even hang wine glasses inside the rack, so put it close to your favorite chair for evening relaxation.
8. Wooden Lobster Trap Table – An accent or showpiece!
This is a well-designed, durable wooden table designed to look like a large lobster trap. What it will ultimately trap is the interest of every person who enters your home.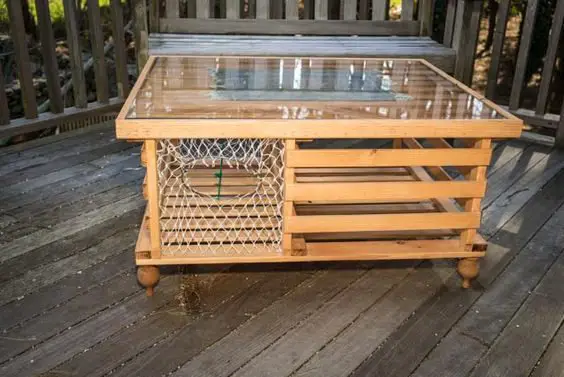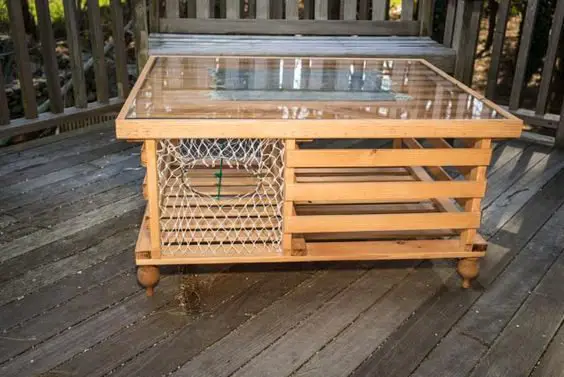 The netting in the center of the table carries home the lobster trap theme, and the polished wood and glass allow it to fit comfortably into a rustic or upscale setting. Depending on how you position and decorate the table, it could serve as an interesting accent piece or the showpiece that steals the limelight.
9. Lobster Trap Trash Can
This is such a simple idea that you're probably wondering why you never thought of it yourself. With a few wooden slats, you can create this interesting can that makes throwing away trash far more appealing.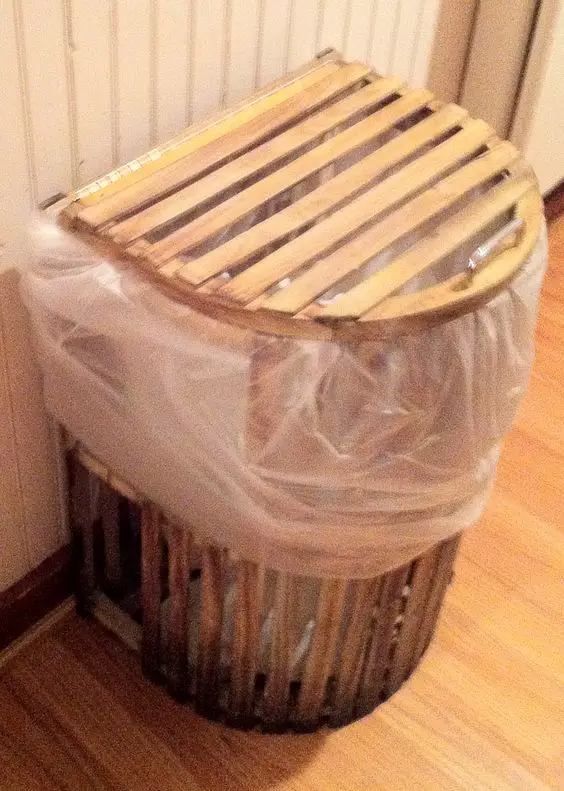 You may even use this idea to conceal larger trash cans kept outdoors, so use your creativity to turn your trash into a point of interest. This idea was discovered in a restaurant, so keep your eye out for those unexpected sparks of inspiration.
10. Simple Lobster Trap Wall Decor – deconstruction works wonders
Take the ends off of a lobster trap, and you have an interesting piece of wall decor. These ends are perfectly shaped and are formed from wood that is beautifully worn. You can use each piece in any way that blends well with other wall decorations in your home, so fire up your creativity.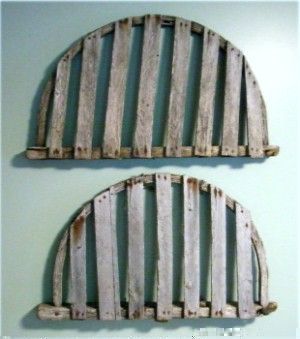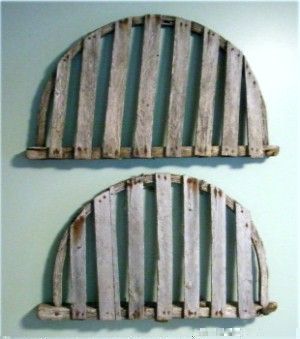 How much fun was that list of decorative lobster trap ideas? It's amazing that you can turn a weathered lobster trap into unique home decorations that are elegant, durable and even functional.
If you have your own creative ideas for trap-inspired decor or you want to express your opinions on these ideas, join the conversation by leaving a comment below. Let's share ideas and transform our beach homes into customized paradise.