Ooh Baby Designs offers beautiful handmade Beach Bags with prints that you will love.

These classic and durable beach bags are available in different coastal designs and sizes (including neat Mini Beach Bags), as well as personalized with your name or monogram.
Ready to Ship Beach Bag with a coastal blue starfish and coral print.
Starfish Mini Bags that make excellent gifts for bridesmaids, or party guests.
Embroidered with a 4 inch starfish and monogrammed with your name.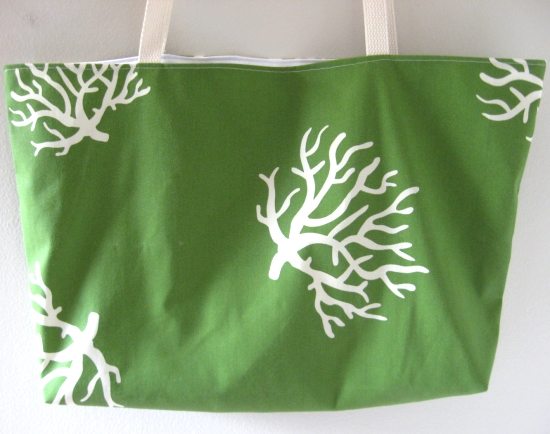 Fashion forward coral designs come in green, blue and red.
Embroidered with a 4 inch dark gray anchor and monogrammed with your initials.
A happy customizer who submitted a photo to Ooh Baby Design's Facebook Page!

You might not be able to fit your entire life into these fabulous Beach Bags, but you will fit all your beach essentials. You can choose between small, large and extra large depending on your needs. I think the small bag is perfect for Flip Flopping around town. I'd carry my water bottle in it, wallet and a Dressy Scarf (also from Ooh Baby Designs) for later in the day!
Beach bags are made from an extremely durable 7 – 8 ounce medium weight cotton. The bottom of the bags have special detailing -they're squared to give you better depth for packing. A great feature of these handmade beach bags is the lining. Stephanie uses a water resistant polyurethane laminate, so you can easily wipe it clean. Overall, the bags are lightweight and will fold up easily to pack inside a suitcase. And last but not least, Stephanie also fulfills special orders!
Thanks go out to Ooh Baby Designs for choosing to have their beautiful beach bags featured on Beach Bliss Living.