The British seaside tradition is a one of a kind. It is well known that the British like it hut! To get a taste, rent one of those cute little beach huts that line the shores by the thousands. While most of the beach huts are for day use only (to store beach gear, change into your swim suit, brew a cup of tea), in a few locations the huts have residential status and you can stay overnight.

The two Shaldon Beach hut rentals in Devon are mini luxury dwellings for the ultimate British seaside experience. These beach huts have a well equipped kitchen, open layout with sofa, breakfast table, wall mounted TV with DVD player, and Wi-Fi access. Shaldon Beach Hut 5 sleeps two and Shaldon Beach Hut 2 sleeps four.

Via Daily Mail UK.

More than three hundred beach huts sit on the sandbank of Mudeford Beach in Dorset (near Christchurch and Bournemouth). A few of the huts are available as vacation rentals via Beach Huts for Rent. The location is idyllic, sandwiched between the sea on one side and the Mudeford harbour on the other. Here it's like camping, with communal showers and toilets, a small restaurant and seasonal store. Photo via The Beach Guide UK.

Photos (this and above) taken by Zoe Power during a trip to Mudeford in March 2014.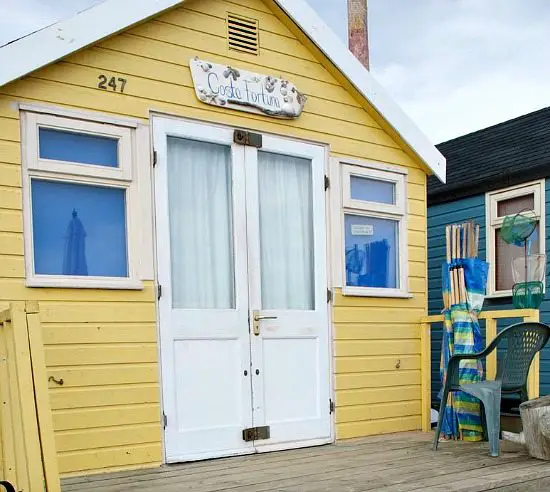 The Beach Hut Experience at Corton Coastal Village in Suffolk is of a different kind. These beach huts are part of a resort.

Or how about a beach hut rental for the day? The Little Beach Hut Company on Mersea Island in Essex offers 5 darling day time rentals. Tea, scones, and other baked goodies are being served! Now that's what I call the full British seaside experience.

Do you like it hut? Photo via Coast Magazine on Facebook.