Around here we do Fall (and Halloween) beach style with blue pumpkins that represent the sea, pumpkins decorated with shells, coated with beach sand, carved with a tropical sunset, and painted in a beach motif. We call them beach pumpkins!



Jax Does Design gave her pumpkins an Annie Sloan chalk paint treatment and a Shabby Chic whitewash, adding shell pieces from the beach.

A true Beach Pumpkin Centerpiece by HGTV, featured on Completely Coastal. The cylinder vase is filled with beach sand, and Air Plants mimick dune grass.

A beachy white pumpkin vase arrangement. Via Pinterest.

The ultimate beach pumpkins might just be the ones rolled around in the sand. Carved and sand coated that is! Via DIY Network. This takes a little work, so they suggest to use faux pumpkins. That way you'll be able to enjoy your Fall and Halloween beach decor for years to come.

Beachy and light, with just a little bit of sand. The starfish was traced on, then glue applied with a paint brush, and sand sprinkled on. By Elizabeth Joan Designs.

The most scrumptious Decoupage Beach Pumpkins.

For a palmy breezy mood, carve a tropical beach scene into your pumpkin. Via Pinterest.

Or how about a carving that captures the stars? Stars of the sea that is, of course. This beach pumpkin sits on the sand in Oregon. Via Distinctive Beach Lodgings Facebook Page.

Bursting with colors. Beach Art Pumpkins by artist Alisa Burke. Alisa comes from a surfing family (and is married to a surfer) so she couldn't resist creating a few whimsical beach pumpkins!

And talking about bursting with colors… Lets have a ball with Beach Ball Pumpkins!

But even the littlest touch of paint can give your pumpkin a beachy feel! Seen on Moore Minutes.

I'm wishing you all a Happy Fall! The season officially begins next Monday. For lots more seasonal Fall inspiration & Pumpkin Carvings, browse Completely Coastal! Shell pumpkin found on Facebook (original source unknown). But don't leave just yet, there is another beach pumpkin idea below!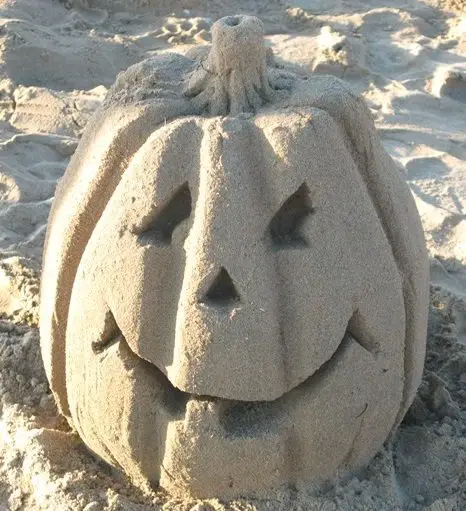 On your next beach outing, how about building a Pumpkin Sand Sculpture!