Throughout BeachBlissLivings various posts, we have covered numerous areas of the house. We have gone from floors and walls, roofs and bars – even doormats. One area we haven't really covered however is bed linens. Well today, we are going to remedy that and give you guys some great inspiration for some marine inspired bed linen that will be perfect for your beach house/cottage.
Now I won't go into linen quality in this post – maybe that's a topic for another time. Instead today we are just focusing on the style and how it interacts with the bedroom. Let's jump right into it!
Basic Nautical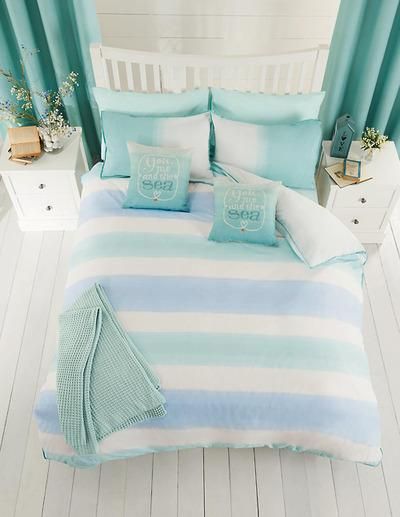 I think a good place to start on this list would be your basic nautical style. Here we have some really neutral colors resembling the colors of the ocean at different times. As you can tell from the above picture, this set works best in a light/white bedroom due to the white stripes running throughout the design. Perfect for your basic beach shack!
Modern Shells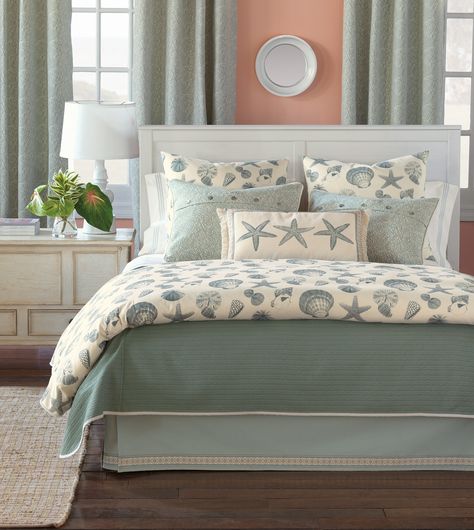 Next up we have this beautiful green shell design. I really love the colors that are used in this linen set and as you can tell they work great in a darker/hardwood floor bedroom.
Turtles and Seahorses
This next one here might be a bit better suited to a kids/spare room due to the more friendly nature of the animals sprinkled throughout the design. What I love about this one is how it actually looks like you are looking through crystal clear water at some animals swimming around. It really is a great way to calm your guests or children before they head off to bed.
Minimal Coral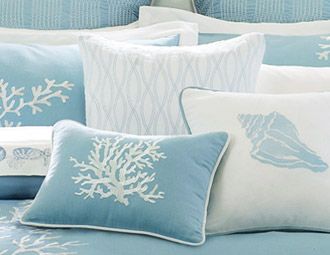 Next we have a more minimal linen design. This one here is just a few pieces of coral and shells printed onto the fabric in a very simple pattern. No extensive colors or tones here. Like the first one, this makes it perfect for a lighter colored room as the soft whites in the design would work absolutely perfect with the white walls/floor.
…Make your own?
To finish with I thought I'd show you how easy it can be to make your own one. For this little project all you are going to need is some different colored paints, some white linen and some shells. As you can tell from the picture, in order to make the designs just paint the shells and then very carefully press the fabric into the shells. This should leave you with some absolutely beautiful designs that I am sure will be a hit. Just make sure you don't drag the fabric across the shells when you remove it or else you may end up ruining the piece of work!