Pineapples are fun to hold and look at due to the interesting brown scales topped off with green leaves that come to sharp points. You feel the weight of this ample fruit when you pick it up and set it in your grocery cart, but you know the real treat comes when you slice it open. The sweet juices will fill your mouth as you bite into the soft flesh, and your body benefits from an abundance of vitamin C, manganese, fiber and B vitamins.
Maybe you can't enjoy the taste of pineapple every day, but there's no reason that you can't keep this tropical fruit close to your heart. This is a welcoming fruit often used to send thoughts of warmth and encouragement. It also has an interesting shape and color scheme that is uplifting and energizing for many people. The following pineapple necklaces and pendants are great ways to keep those positive attributes in your daily life or to share the sweet joy with others.
Sometimes the simplest pieces of jewelry are instant favorites never to see the darkness of your jewelry box. This brass-plated necklace is perfect for those casual days when you're lounging around the house, going for a bike ride or shopping with friends.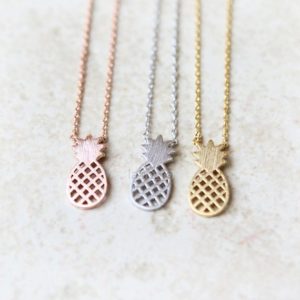 This is also a great gift for young girls or teenagers who like wearing cute jewelry. You can select from three plating colors, including gold, silver and rose pink. The flat pineapple pendant rests comfortably on the chest, and the thin chain measures 16.5 inches in length. This is one simple necklace that you may never want to tuck away in the box.
Transport yourself or someone special to a tropical island with this elegant gold pineapple pendant and matching chain. Each pineapple is crafted by hand in the USA, and the completed necklace is shipped in a small Kraft box. The 3D pineapple pendant features the intricate scales as well as the spiked leaves that make pineapples so interesting in appearance.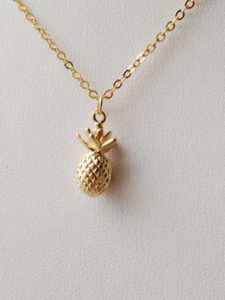 It's like holding a real pineapple in your hand, but the taste of that sweet, juicy flesh is left to your imagination. When you need to energize your mind and think happy thoughts, slip this gold-plated pineapple around your neck.
How do you give a pineapple your personal touch? You mark it with your initial and seal it in antique gold. That's exactly what you get with this monogram necklace, which will fit your personal wardrobe or make an exceptional gift.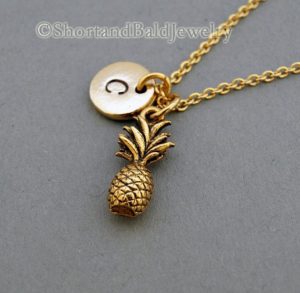 Each gold pewter chain comes with a rounded pineapple pendant and a small, circular pendant engraved with the letter of your choice. The pineapple is finely detailed with the scales and puff of leaves that you expect from any authentic pineapple, and each necklace is crafted by hand. The antique finish gives this pineapple necklace an elegant touch for everyday wear or special occasions.
Give your life a little charm with this vintage pineapple pendant and matching chain. Each pineapple is created by hand and shipped around the world, so distance is no barrier to delivering a cheerful gift to someone special.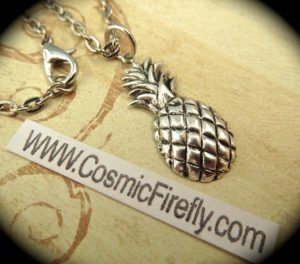 The pineapple has a rounded body with triangle scales, and it's topped with the pointed leaves that give the fruit its elegance. A final touch of silver plating gives the pendant just enough shine to grab attention. Whether you wrap it up as a gift or keep it all to yourself, this is an affordable way to jazz up a casual wardrobe.
Take an artistic print of a colorful pineapple and position it under a clear sheet of glass. The end result is a unique necklace that you will want to wear regularly. This handcrafted necklace features a finely detailed pineapple with a crown of crisp green leaves positioned in front of a background containing uplifting words in sunny yellow.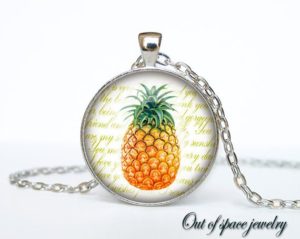 The print is contained in a round pendant with a glass cover, creating an elegant and fun piece of jewelry that appeals to young girls, teenagers and adults. Every necklace ships in an organza jewelry bag, so it's ready to hand over as a gift or slip around your own neck.
Whether you're searching for something unusual to bring life to your everyday wardrobe or you simply love pineapples and their wholesome charm, these pendants are an affordable way to accessorize your wardrobe. You can take them off their accompanying chains and add them to your favorite necklaces or wear them straight out of the shipping box. You can even wrap them up and gift them to someone in need of a cheerful greeting. Pineapples symbolize the rich, sweetness of life, and who doesn't need a little more of that in their world?